PHILIPPINES 
November 2015 Alain & Dianne (Didi) set off on a adventure of a lifetime. Below is information about the Philippine Islands. More to come when we get Alain and Didi to sit still long enough to tell us all about their adventure but until then check out their amazing video below.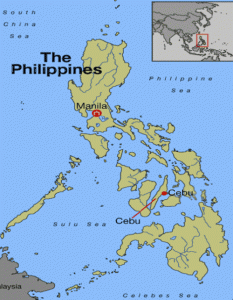 The UNESCO World Heritage site of Tubbataha in the Sulu Sea might ring a bell with well-traveled divers, but the Philippines are probably one of the least visited—but one of the most worthy—dive destinations in the world. Located north of Malaysian Borneo and Indonesia, the 7,107 islands in the Philippine archipelago offer a number of top-rated dive locations.
Diving in the Philippines
Part of the famed Coral Triangle, a concentration of undersea biodiversity, the southern dive regions of the Philippines literally teems with more then 1,200 species of marinelife. The main scuba hubs are concentrated around Puerto Galera, Cebu, Bohol, Dumaguete, Anilao, Busuanga, Palawan, and Coron. But you can find almost every underwater adventure and experience you could dream up among the 7,000 islands that make up this nation. Especially notable are the unique, and almost guaranteed, interactions with such rare marinelife as dugongs off Dimakya Island and the skittish scythe-tail thresher shark that shows up in the early morning waters of Monad Shoal off the island of Malapascua.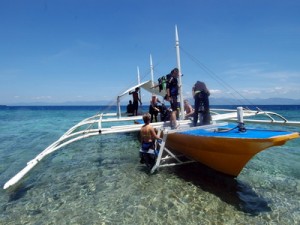 The crown jewel of all this diverse natural marine heritage is the World Heritage Site of Tubbataha Marine Park. This remote site is accessed exclusively from liveaboards from March to June. Well-known for its walls, dramatic drop-offs and currents, the reef system of Tubbataha revels in forests of multi-hued soft corals, pelagics such as mantas and sea turtles and several species of sharks. Plus there's a chance of finding some new critter undescribed to science on any dive.
For land based diving, the Philippines has a large collection of dreamy resorts on idyllic islands.
White sand beaches, soft breezes swishing through palm trees and light dappled lagoons are included in the package. The list of dive opportunities is almost endless. Wreck enthusiasts should head straight for Coron, off Palawan. Here, 18 WWII Japanese ships were sunk by an allied airstrike in 1944. The artistic touch of the ocean has molded these instruments of war into vigorous and life-affirming reefs. Start at the top of the best list with the Taiei Maru wreck. The Pier off Dumaguete is one of the many hot spots for macro critters, along with Apo Reef, a famous marine sanctuary that doubles down by attracting sharks, mantas and a long list of other mega-fauna. With that being said, most of the dives off almost any diver hot spot will yield a treasure trove of creatures big and small.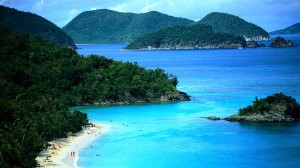 Culture and Customs
A rich mixture of both primitive, island-based culture and customs and traditions derived from the Spanish colonization manifest in the folk music, dance, art, culinary scene, religions and language of the Philippines. Pre-Hispanic tribes of Malayo-Polynesian descent still thrive in the remote southern Philippines. Filipino folklore includes a diverse array of mythical creatures including vampires, goblins, mermen, and a particular monster, called the Aswang, that will lick you to death. Traditional Philippine music centers around the ancient gong-like kulintang and lyrical music that has a distinct Spanish sound and passions. These same passions can be seen in the national dance, the Carinosa, which focuses on romance through movement. There's also the famous Tinikling dance, which utilizes two bamboo poles around which dancers navigate. The Philippine culture and people are famous for their love of visitors and their desire to share their countries heritage. So, you'll make Filipino friends everywhere you visit.