New Years Eve in Grand Cayman. What a BLAST!
Grand Cayman is the largest and most visited of the three islands (Grand Cayman, Cayman Brac and Little Cayman) that comprise the Cayman Islands. Grand Cayman is popular for scuba divers and vacationers alike. With crystal clear water, vibrant reefs and its famous 7-Mile Beach, it's perfect for diving, snorkeling and swimming. There are over 160 dive sites surrounding from West End to East End and North Sound, and its numerous resorts and dive operators cater to scuba divers in a manner which few destinations can match. Crystal clear waters, beautiful beaches, reef diving and even encounters with its friendly stingray population are but a few of the reasons that divers flock to this dive Mecca according to PADI. Http://travel.padi.com
Our 2010-2011 adventure at Sunset House – Grand Cayman's Hotel by Divers for Divers.
Sunset House offers a fantastic dive crew, great dive boats, and phenomenal dive sites along with their easy access to great shore diving. OH and My Bar, can't forget My Bar and their phenomenal chocolate cake with rum infused vanilla shakes!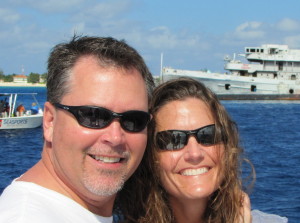 During our visit to Grand Cayman we were able to witness the sinking of the USS Kittiwake for the purpose of artificial reef site.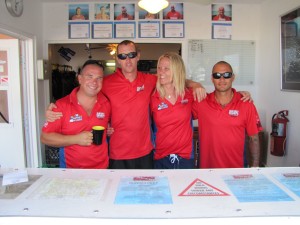 We chose the dive package which included the following:
Air Conditioned accommodations w/Digital Cable TV & Telephone (Rooms have been updated/remodeled since our visit in 2010-2012
Divemasters' Breakfast (Several options offered daily – Dine in or take out)
Daily two-tank boat trips, except day of arrival and departure (But the shore is open for snorkeling and whatever)
Tanks for shore diving are complimentary on those days that boat diving is paid for (GREAT SET UP) As many tanks as you want with easy access.
Tanks, weights and belt
Complimentary dive gear locker. Sunset House offers a huge rinse tank and secure lockers are just up the hill to store gear.
A Welcome Alcoholic or Non-Alcoholic Beverage of your choice
Sunset House Souvenir Gift. (Pick of Cathy Church photographs)
Taxi transfers from and to the airport
All Tax and Service Charges
25% off 65′ Catamaran Sails – we did not do this.
The only true negatives for this trip was the volume of cruise ships docked each day and the rudeness of international visitors from those ships. There is not much caribbean culture to be had on Grand Cayman. Very commercial area which is nice for those who wish to roam the town. The diving is very good thus making it a great place to get your dive on. There is no sand beach access from Sunset House. The resort has provided concrete paths to entry sites however the remainder of waterfront is very treacherous and probably should not be explored without the possibility of injury. There are also several very large fuel holding tanks very close to the resort. Regardless of the negatives, all resorts have them, we had a fantastic time and will go back one day to see our friends at Sunset House.