On Saturday April 26th 2014 we jetted off to Roatán Honduras for a fantastic scuba vacation with a few of our dearest friends. This dive trip was booked as a scouting trip to visit the island, dive the reef, and locate the ideal place for a large group trip in the future.
We departed on United Airlines from Tampa (TPA) airport at 0645 in the morning and flew promptly into Houston (IAH) where we hung out for about four hours until our flight departed for Roatán (RTB). After landing in Roatán at Juan Manuel Gálvez International Airport where we quickly located our baggage and passed through customs and was promptly greeted by Las Rocas Resort And Dive Center and transported to the resort. GRR members Alain and Didi had already arrived and as usual settled in with a drink and a cool dip in the beautiful waters we would call home for the next 8 days of diving. Although we booked a portion of our dive package through Las Rocas, we had plans to do some shore diving down the beach with our dear friend Juan Carlos Molina who we had met in Utila years before. 
Las Rocas Resort is located at the western end of the island in a area known as West Bay.  The resort is small with only 17 bungalows. Our room was quite simple and rustic but had everything we needed including AC, a small refrigerator, and a private veranda with a hammock. The bed was very firm and sat upon wooden slats and although we paid a additional fee for internet access, the signal was too poor to access in our room. We also had a small bug problem due to flowers left on the bed by the resort staff after daily cleaning. Although you should always expect mosquitoes and "noseeums" better known as sand flees on these islands, you would hope to keep them out of your room. We swear by Thiamine Mosquito patches as well as Neuroedge, which we use daily for our own health and wellness routine, to keep the biting bugs at bay. We also use coconut oil on our skin which has proven to be yet another good tactic to keep bites at bay. The Los Rocas website provides the "best" pictures that make this resort look a little nicer than it actually is. This was by far the most rustic dive resort we have booked and due to size and other issues we would not be able to book a group trip through this resort.
The grounds were nicely landscaped with trails that lead to the office, dive shop, bar, and beach. There is a guard located on the grounds at all times to insure the safety of guests. Daily breakfast was included but due to dietary preference and variety we quickly found a small beach bar down the beach which we trekked to most of the mornings prior to diving. Fresh watermelon and lime juice on ice is quite the morning treat on a hot tropical island.
On to diving. After checking into the dive shop and providing credentials and gearing up we met Alex. Alex is a awesome young man with a passion for diving and we highly recommend him as a DM. Our first adventure proved to be questionable. The dive sites were awesome but the air quality in our tanks was not. We verbalized our concern promptly after the first dive. The air had a "burnt" taste which left us with mild headache and questions to the dive shop. We were told that the compressors had just undergone maintenance and the filters all changed and that the air was not compromised. The second day proved to support the same suspicion that the air quality was poor and/or the tanks contaminated in some way so we chose to terminate our diving package with Las Rocas. Later we were informed that the seal on the compressor had broken and oil had leaked into the filter compartments. We were assured that the problem had been corrected but we decided to dive with another dive operation down the beach. We were reimbursed by the resort for these dives.
Back to our friend Juan Carlos or better known as "Juca". Juca had just returned to the Bay Islands and recently established with TGI Diving on Paradise Beach/Infinity Bay. It was no surprise that it was amazing to see and dive with Juca again. Needless to say, our diving adventures were fantastic from that point on. Boat dives were two tank daily with the option to dive from the shore as much as we wanted. Although we had to travel down the beach each morning to the dive boat, we encountered many memorable encounters along the way. We dove several wrecks and had many amazing encounters with marine  life.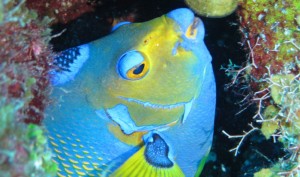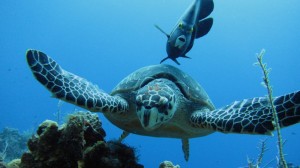 Roatán offers exceptional diving and we plan to return with a group in 2016. Once again, Juca saved the day. We spent the remainder of our non-diving time on Roatán exploring the island as if we were "locals".